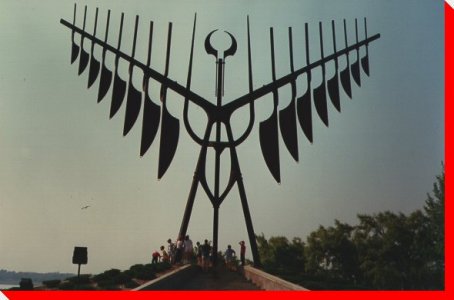 I love this sculpture. I thought it was called "The Raven" but it is apparently Ron Baird's "The Spirit Catcher". People are encouraged to come and "cast a wish" An image of the West Coast, First Nations mythological creatures, The Thunderbird is a powerful being in the form of a very large bird that carries our messages, dreams and desires to the Universe.
It was such a coincidence that I have been thinking about this creature and last night on Coast to Coast they were talking about them.
Now, I would like to cast my wish this Thanksgiving that I will develop my gratitude for what I have. I cast out into the Universe my thankfulness for my existence. No, it is not "perfect" in the media-bludgeoned sense of the word, but I have more comforts in my life than a large percentage of the world. I do work hard for what I have, but I am able to work and I have the opportunity to do so and earn a living with it. I welcome this opportunity and the opportunities that will come. I honour my gratitude by being and doing my best everyday.
Year to year, what I consider my best may change, learning and growing. Through the ups and the downs I will learn from everything and be grateful for my awareness and many blessings and the many blessings to come.
PEACE!
Thunderbird, you glorious creature, please take that message to the Universe!
Thank you!